BECOME A SPONSOR TODAY !
BECOMING A SPONSOR HELPS SAVE A LIFE. you make the difference between life or death for several of these animals.
Your monthly donation helps provide for the HORSE, dog or OTHER FARM ANIMAL THEIR daily and medical needs. Our Sanctuary would not be able to survive without your kind and very needed donations, as we receive no financial support from local or government agencies.
Great Spirit Animal Sanctuary is a registered 501(c)3 non-profit charity. Your donation MAY be tax deductible according to Internal Revenue Laws. Every animal at great spirit animal sanctuary receives a home for life.
BECOMING A SPONSOR IS EASY CHOOSE FROM BELOW: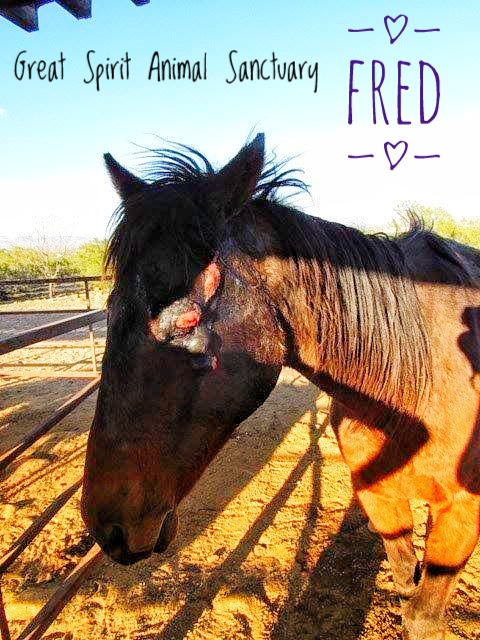 Fred is approximately 16 years old. Fred was discovered in a backyard emaciated. His only food source was his fecal matter. Fred had numerous injuries including several to his skull. Fred was near death. Other rescues said to put him down. Fred's eyes said different. Fred was only about 700 lbs when rescued. Fred was saved by Great Spirit Animal Sanctuary and their fosters. They knew he wanted to live. He has a long road to his recovery. Fred was moved to the Sanctuary on Christmas eve 2018. Fred still has a long road to full recovery.
Fred is a favorite at the Sanctuary with all of the children volunteers. Children always are amazed that adults would allow this to occur to Fred. Fred loves when the children wash, brush and just hug him.
Fred loves to be held, hugged and especially loves his face scratched. Fred is now enjoying his life with the other equine at the Sanctuary. Fred has a permanent home for life at the Sanctuary.
Fred enjoys eating carrots, watermelon, apples and especially loves his apple horse treats.
Mikey was approximately born in 2017. Mikey arrived at the Sanctuary in 2019
Mikey's owners were unable to care for him any longer and they were afraid he would be slaughtered.
Mikey has some special needs, unfortunately Mikey was debudded and it wasn't done very well. At times Mikey's horn areas bleed. This occurs when he rubs his head on various things. Mikey's care includes his feed, farrier, housing needs, and medical care.
Mikey is a permanent resident at Great Spirit Animal Sanctuary and is one of the ambassadors in our children's programs.
Mikey enjoys having his head rubbed, eating watermelon and climbing trees. Mikey is extremely friendly.
Lucky was born in January of 2019. He was born 3rd from a set of triplets. Unfortunately Lucky's mom died at his birth and he was bottle fed. Because Lucky was a part of triplets he didn't have much room in his mom. Lucky was born with two deformed legs. The worse was his left rear leg which was almost completely backwards. Lucky's foster mom took really good care of him and bandaged and cleaned his leg daily. The fosters contacted the Sanctuary and needed a permanent home for Lucky. Lucky was brought to the Sanctuary in 2019.
We continued bandaging Lucky everyday until we could get him into the vets office. The Sanctuary took Lucky to a vet specialist who has done wonders with animals with bone issues. Lucky was fitted for a leg brace for his rear leg to help straighten the bone growth. After several weeks of on and off usage of the brace Lucky's leg has begun to straighten.
Lucky now lives his life with all of the animals at the Sanctuary. Lucky is a favorite with all of the visiting children to the Sanctuary. Lucky really thinks he's just one of the dogs at the Sanctuary. He prefers running and playing with them during most of his day.
Lucky enjoys eating leaves from the trees on the property and loves watermelon too!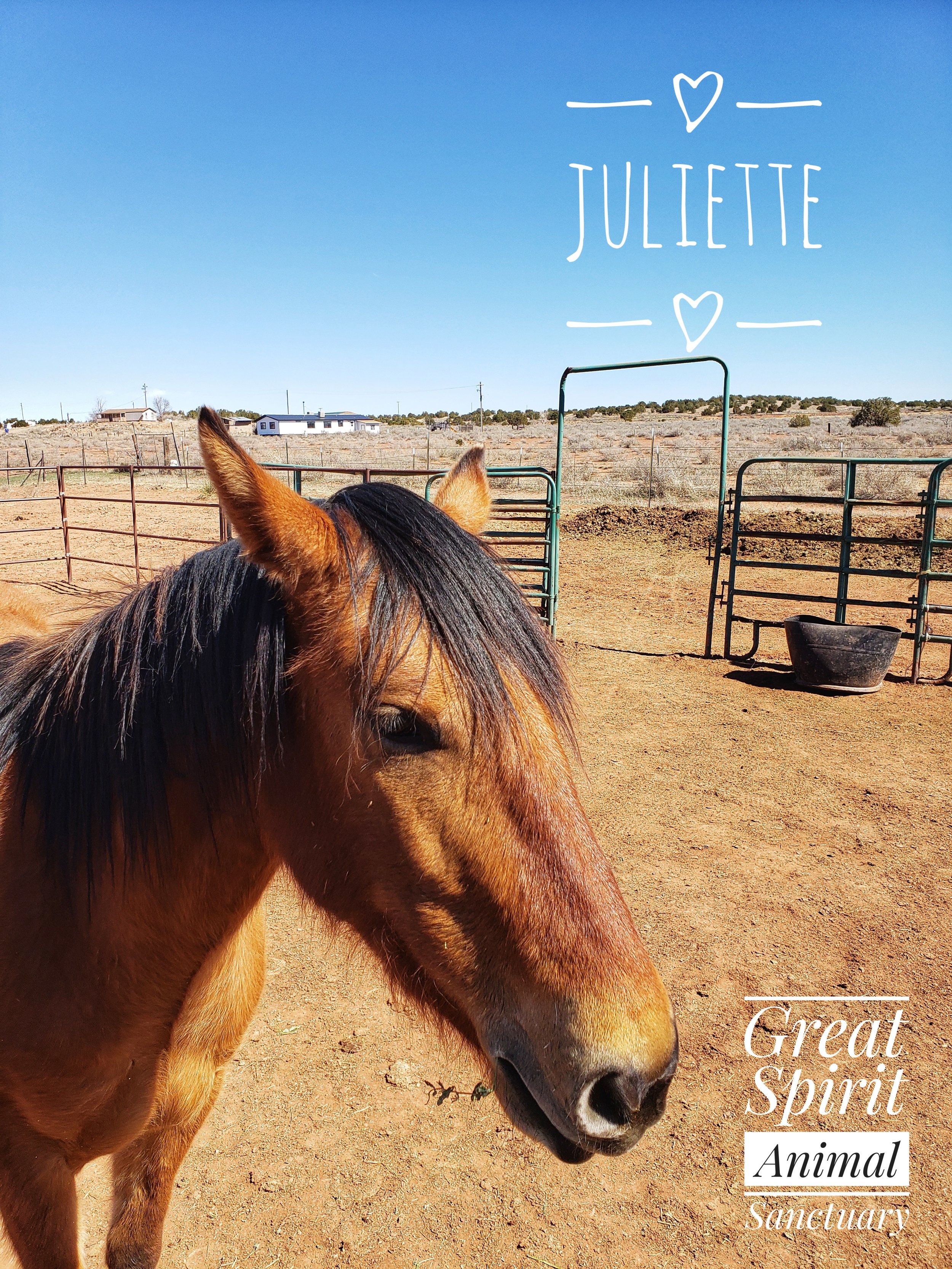 community Partners
AMAZON SMILES
AmazonSmile is a website operated by Amazon with the same products, prices, and shopping features as Amazon.com. The difference is that when you shop on AmazonSmile, the AmazonSmile Foundation will donate 0.5% of the purchase price of eligible products to the charitable organization Great Spirit Animal Sanctuary.
You need to register your account at www.smile.amazon.com and select Great Spirit Animal Sanctuary as your charity of choice. We thank you for selecting us and every donation benefits the animals.
https://smile.amazon.com/ch/82-1095343
fry's food stores/kroger
Fry's Community Rewards Program.
Great Spirit Animal Sanctuary Inc. Organization 88977,
Just go to the appropriate website mentioned below to enroll.
PLEASE NOTE: Before you can link your Fry's / Kroger V.I.P card to Great Spirit Animal Sanctuary, you must have an email address and your VIP must be registered.
STEP 1: Creating an Online Fry's Account
**NOTE: If you already have an online Fry's account, skip to #2
* Go to http://www.frysfood.com/
* Click on "Welcome! Sign In" (top right)
* Click on "No Account? Register" (top right)
* Under "Create an Account", enter your email and create a password (write down your email & password—you will need it in step 2)
* Under "Select your preferred store", enter your postal code and click "Find"
* Select your store then click on "Create Account"
* You will then be prompted to check your email for the confirmation email
* Click the hyperlink "View My Account" in your email to finish creating your Online Fry's Account
* Continue to step #2 to register for the Fry's Community Rewards Program of your choice
STEP 2: Register for the Fry's Community Rewards Program
* Go to https://www.frysfood.com/topic/community?activePage=community-rewards-2
* Select "Sign-In".
* Enter your email and password then select 'sign in'. (this will be the email and password you created in step 1)
* Under "Welcome back!" click "Your Name/My Account"
* Under "Account Summary" scroll down "Community Rewards"
* Click 'enroll' under "Community Rewards", if prompted, enter personal information
* Under Find Your Organization: Enter the NPO number 88977 or the name Great Spirit Animal Sanctuary, Inc. then select 'search'.
* Under Select Your Organization: Select box next to your organization (left side)
* Then select 'save changes'.
* If you have registered correctly, you should now see Great Spirit Animal Sanctuary listed under 'Community Rewards' on your account summary page.
TAX DEDUCTIBLE DONATIONS can be made through
AMEX AND JUST GIVE ORGANIZATION
Become a volunteer
If you would like to become a volunteer, fill out the form below and one of our staff members will get back to you as soon as possible.