We always get the same question, what's the difference between the Sanctuary and other rescues. First it's important to understand the differences between rescues, shelters and sanctuaries.
Animal Control Shelters: These are the government run facilities, also sometimes called Rabies control facilities. These are completely funded by the government and fees collected. They've been nicknamed over years as the "Pound", "Doggie Jail" etc. These facilities hold all bite quarantines, they pick up loose strays and will accept any owner surrenders. They are usually low cost shelters for adoption, they require the dogs to be neutered or spayed before going home. They have improved their adoption and educational roles over the years, however they are usually still a kill facility, so they have higher euthanasia rates compared to other shelters. They have primarily mixed breed dogs available, usually overpopulated breeds like Pit Bulls. Since several of the dogs were strays, history of the dog's behavior or medical condition are usually limited.
Animal Shelters: These are usually Non-profit organizations that solely run on volunteers and contributions. These facilities tend to be more no kill shelters versus a kill shelter, however each shelter should be individually researched. Most people tend to classify these facilities as Humane Society, yet not all facilities are affiliated with the Humane Society. These facilities usually accept selected owner surrenders and occasionally have selected strays. As a result their euthanasia rates tend to be lower. These shelters usually also have pop up locations to drive adoptions. Facilities tend to offer better accommodations for the dogs. Their adoption prices tend to be higher as they usually offer more with the adoptions including some food. Dogs are required to go home neutered or spayed. Occasionally dogs are micro-chipped.
Rescues: These are usually Non-profit organizations that solely run on volunteers and contributions. They usually don't have specific shelter locations, but rather utilize pop up locations, in home visits, and dog events for example for their adoptions. Their success rates tend to be the highest, several contribute it to in home visits, all dogs are usually micro chipped, and follow up communication continues with the adopted families. The rescues can be specific breed focused, size focused, or variety of other types. They usually monitor state run facilities to monitor their rescues breeds. As an example the Great Dane Rescue group monitors the facilities to ensure no Great Dane ends up in the state facility or other shelters. They primarily utilize fosters as their network to house the dogs. All dogs are required to be spayed or neutered.
Animal Groups: These are usually Non-profit organizations that offer support to other animal groups. Several animal groups have no animal facilities or dogs in foster within their group. Several animal groups will offer grants, donations, contributions to other shelters to conduct spay/neuter drives, vaccination drives and adoption drives for their specific shelter or rescue.
Dog Sanctuaries: Sanctuaries are usually considered the last chance for an dog. They offer a permanent home for the dog. Over the years they've been called "Farms". When someone could no longer care for a dog, people use to say they sent the dog off to a Farm, most likely they were referring to a dog sanctuary. They usually do not place the dogs up for adoption as a majority of the dogs come from rescues or shelters and they could not find an adequate home previously. Sanctuaries usually accept dogs that are completely adoptable, however for whatever reason they haven't been adopted or they are consistently in the rescue return loop. Dogs at Sanctuaries are usually breeds that has been over bred like a pit bull, older dogs, dogs with various behavior issues and dogs with minor medical conditions. Sanctuaries are usually the dogs LAST CHANCE to live out their life. Dogs in Sanctuaries are normally cage free, socialized with other dogs and people daily, and become re-energized with their new buddies and surroundings. Dogs tend to utilize their pack mentality in Sanctuaries, usually improving the dogs health and reducing the dogs behavior issues. Sanctuaries can be breed specific or open to all types of dogs.
Great Spirit Animal Sanctuary is a 501(c)3 Non Profit Sanctuary, our dogs are not up for adoption, as they've already been in that cycle sometimes for months and years. We are a no-kill facility and our dogs are not in cages or kennels, but have large pods to live in. All dogs live in pod with a mate, however all dogs are neutered and spayed.. Great Spirit Animal Sanctuary socializes the dogs with other dogs to re-energize the dogs and return them to their pack traits. Great Spirit Animal Sanctuary operates with a volunteer staff and solely on donations from our sponsors and donors.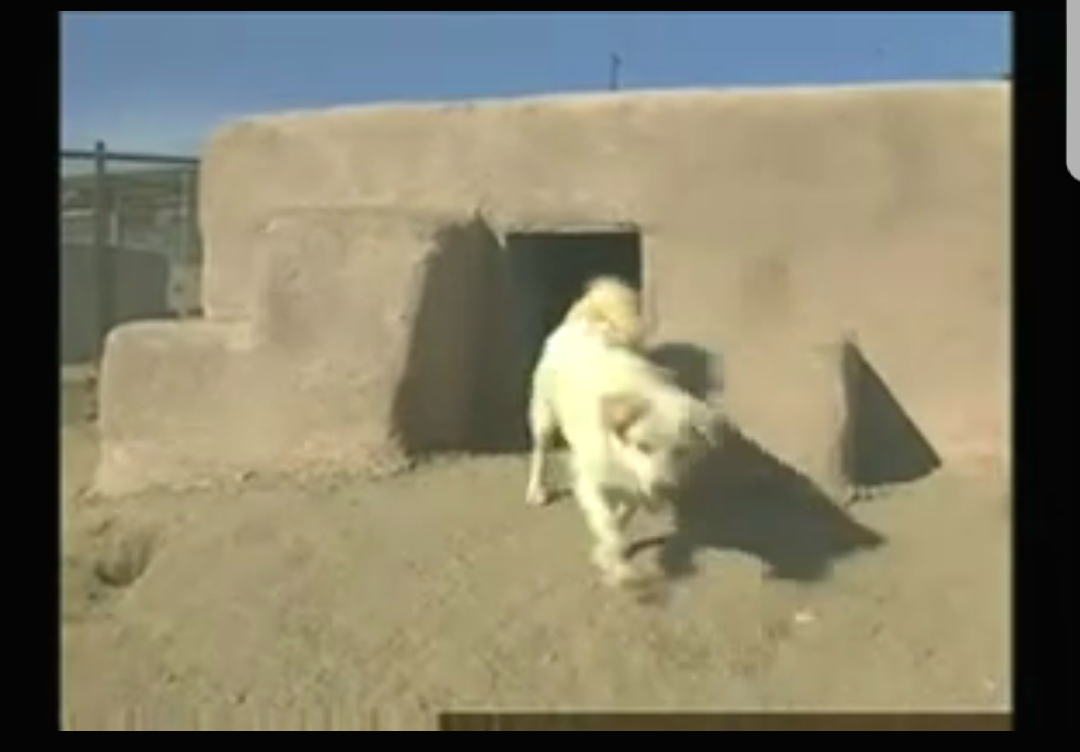 Dog Dens constructed from straw, plywood, concrete and stucco
Each DEN houses 2 dogs, each DEN is located in a POD that is 30 feet by 30 feet providing ample housing for 2 dogs.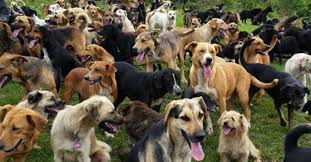 All Dogs are socialized within the Sanctuary
Each compound has 34 to 42 dogs within each activity zone area. Activity zones are connected to the PODS offering an area of 129 feet by 129 feet for Dogs to redevelop their pack mentality which helps reducing their behavior issues. Each activity zone has a swimming pond and exercise areas.